OXO Tickets Redempti...
Electrocoin's Classic Redemption Fruit machine is back with a new programme and a new cabinet.
All new parts and a brand new LED colour-glo theme makes OXO Tickets stand out from the crowd !
Available with configurable payout percentages 30-60% and Jackpot awards of 200-800 tickets.
Also includes Skill Stop feature for non-gaming countries.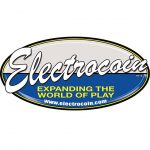 Additional information
Manufactured by:

Electrocoin

Dimensions:

H: 177cm
W: 40cm
D: 50cm

Wgt: 90kg