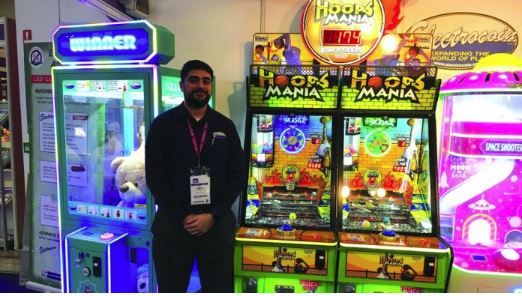 A prominent position and range of gaming and non-gaming machines offering "something different" helped Electrocoin's stand draw significant interest at this year's ICE.
Sales and marketing head John A. Stergides explains what set the supplier's products apart.
Not only did Electrocoin's position right by the entrance of the ExCel Centre bring customers flooding to view its range at ICE this year, but a carefully curated selection of gaming and non-gaming products ensured the supplier stood out from the crowd.
Featuring big redemption hitters and brand-new titles, alongside expertly refurbished Bar-X Sevens and Spin Gaming products (roulette selection), Electrocoin made sure its stand drew consistent attention from the moment the doors opened.
"The stand's been constantly busy, there's always a flow of traffic, and I think a big part of that is that we're offering something different to everyone else," said John A. Stergides.
"We're probably one of the only stands that does non-gaming equipment here at ICE, it's quite unique, and what I've noticed is that what we have on our stand is eye-catching, when people have been walking round, they find it quite refreshing to see a pusher piece or a pinball."
Popular titles such as Space Shooter and Skill Cut Winner returned after considerable success at EAG, as well as the The Beatles Pinball, and Newman's Sales' Phantom Menace motorbike ride.
However, it was the European premiere of Hoops Mania, a closed-loop pusher featuring a range of play options, that attracted the most attention.
"We've been working for over two years on this, it's a fast-paced action game that families are going to love, people just sit here wanting to play it, we believe it'll do well as it's a fun challenge, it's been gaining a lot of attention."
"It's redemption based and pays out tickets if you win. Players push a button to launch coins into the moving basket.
If it then lands in the holes, players go into the bonus reel, where they can win the bonus ticket amount – which is an accumulator – or in this edition it releases a capsule into the playfield."
Though non-gaming certainly made its impact, Electrocoin also saw the Cat C, B3 and B4 games compendiums from Spin Gaming on the Goliath Cabinet draw attention at the show.
"If operators are looking to refresh the software, do something different, we also offer conversion kits for the VIP Casino and Monte Carlo.
Coinslot – February 14th – February 20th 2020 – Issue 2668 – Page 18 – 19