Ace Gaming VIP and the latest Bar X Tablet System took centre stage at Electrocoin's ICE 2023 stand as the company demonstrated its gaming pedigree to a packed out ExCel. Meanwhile, Skill Shooter and the new James Bond pinball kept visitors at stand N1-302 highly entertained.
Electrocoin provided both high quality entertainment and a high-quality product offering at ICE 2023, with queues forming for Skill Shooter while orders rolled in for Ace Gaming VIP.
As the exclusive distributor for Ace Gaming VIP products, Wessex Coin's Karl Prismall accompanied Electrocoin at the company's ICE stand and provided plenty of demonstrations for inquisitive attendees.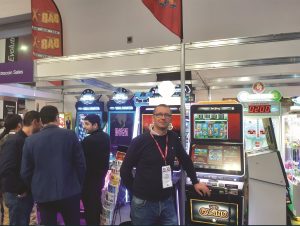 "Electrocoin kindly invited me to represent the product that we distribute exclusively," explained Prismall. "It's a B3/Cat C switchable for the AGC market, and the other content is B4/Cat C for the single site market. There's no ongoing content fee, so no weekly, monthly or yearly subscription. There are very few digital machines that have no content fees, so its a big saver for the operator. The products did extremely well at EAG, and that success has carried on over to ICE."
Electrocoin's John A. Stergides was also very pleased with the amount of interest generated at the expo – especially by Skill Shooter, which had people queueing off the stand and into the aisles.
"The show has gone really well, the stand is very busy and Skill Shooter has been played none stop. It's been unbelievable, we've had queues of people waiting to play," he commented. "The James Bond pinball has also been very popular, as have our pushers; Mr Do Space Rocks and Hoop Mania. The Bar X Tablet has also had a lot of interest from AGCs."
Gary Newman, a distributor of Electrcoin's amusements products, was also at the stand, and over the three days added to his book of orders – already thick from a successful EAG.
"Operators often come to me looking for specific products, and there's been massive interest in Electrocoin's amusement equipment ahead of the upcoming season," concluded Newman. "I took many orders at EAG, and ICE has built on that success."
Coinslot 2823 10 February 2023
Coinslot – February 10th – February 17th 2023 – Issue 2823 – Page 11