Electrocoin has made the first visit of its busy 2023 international trade show schedule, taking an enlarged stand at the Feria Internacional del Juego Madrid (FIJMA 2023) to showcase its impressive range of AWP, skill, and redemption titles.
The show, which took place in the Spanish capital from 21 to 23 February, allowed the supplier to further consolidate its European presence, with MD John Stergides noting the event is "very important" to Electorocoin's global reputation.
"Electrocoin has as always shown to different countries, with exhibitions from UK to Dubai, Greece Italy, Paris, Amsterdam and Dublin," said Stergides. "This year's first overseas show is in Spain, at FIJMA 2023 in Madrid, before we go to Ireland, Italy and Dubai."
"The Madrid show is very important as Electrocoin will show our AWP style games, a large selection of redemption and skill games like the Colour Match and Skill Shooter, and most important the Stern pin tables with the latest 007 James Bond which are distributed in Spain by CocoMatic."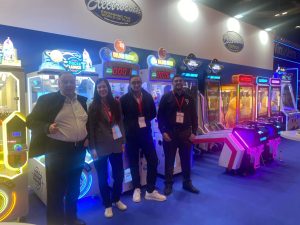 As well as Electrocoin's own range, the stand will also feature Elmac's Galileo ticket eaters, with Electrocoin handling distribution for the company in Spain.
"We have taken a larger booth to make sure that all our games have a good presentation, with a famous Spanish BAR X bar with drinks and excellent snacks including Iberico ham," added Stergides. "Then we go to Italy with our partners ELMAC."
Coinslot – February 24th – March 2nd 2023 – Issue 2825 – Page 8