Electrocoin predicts buoyant 2023 after expansive EAG appearance
From closed loop pushers to pinballs, cashless systems to cranes, Electrocoin presented everything an operator could need at EAG this year, with several new releases causing "quite a stir" among visitors to its stand. Speaking to Coinslot, sales and marketing manager John A Stergides observed that if the level of interest from operators was anything to go by, the industry is "in buoyant mood and excited for the year ahead."
Coinslot: How did the show go for you?
John A Stergides: EAG 2023 had a real good positive buzz and it was great to see so many operators and also drive interest in our products across the three days.
It's very difficult to see everyone, but overall for the show, it seemed to be a great reception especially for the first two days.
I think with many visitors using the Elizabeth Line – despite an unfortunate strike on the last day ONLY for that tube line – they would have taken full benefit of it to stay nearer to central London and stay longer at the show.
However, because it was very early on in January, many of the international visitors decided not to come as it was too close to the Epiphany celebration and also many would have just returned to the office. So hopefully this will be avoided next year.
Coinslot: Were there any key developments finalised for the company at EAG?
 John A Stergides: There was a great reaction to a number of our products, both existing lines and new debuts.
For example, our latest closed loop pushers, the Mr Do Space Rocks (Ball) and Hoops Mania 2 (coins) pushers, were very popular with operators which have been performing well and are now in full production.
Pinball wise – these were always busy and Stern showed the latest James Bond pinball along with the online connectivity function of Stern Insider which is causing quite a stir with operators with its potential at driving new footfall to their location.
Of the current line, Skill Shooter was very popular and is in great demand along with the Mr Do Air Balls and Colour Match. We are waiting for more shipments to arrive due to their success.
New product wise, the Rocket Launch and Treasure Alliance were very popular and something different for operators who were excited at their offering.
As expected, there has also been an increase in interest for the Intercard Cashless system as operators look at ways at future proofing their location as technology moves forward towards a more cashless society.
And finally, from a gaming perspective, the latest Cat C/ B4 offering with Ace Gaming garnered a lot of interest especially with the kit conversion capabilities. This was complemented with the latest Bar-X Tablet All in One system.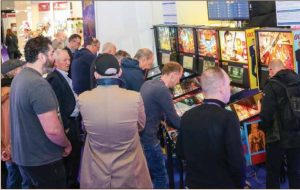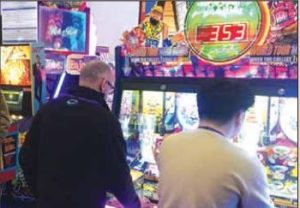 Coinslot: It was the first undisrupted EAG since Covid – how did you gauge the general mood of the industry and what were the main talking points?
John A Stergides: Well, it was nearly uninterrupted as there was a strike on the new Elizabeth line on the final day which didn't help at all, so it would be nice to have one show without any interruptions.
Operators seemed in buoyant mood and excited for the year ahead and this was shown with the amount of interest in the products on the stand as they planned for the coming season.
There was also talk of the White Paper and what it could hold, but until it's released, we are second guessing and then it will take a couple of years to implement anyway.
So the main focus was the year ahead and the hope that living costs and energy costs will come down to help everyone which it appears could be a possibility.
As many operators mentioned, the statistics released at the recent BACTA annual convention, foreign holidays are the first to be cut when costs need to be cut, so we expect this could lead to a greater demand for staycation which is great news for the industry.
Coinslot: Now the show is over, what's on your agenda going into spring in terms of new products and new projects?
John A Stergides: We are always developing new products and improving the existing lines as per the feedback received from players and operators. We plan to exhibit at a number of shows including ICE in February, the Spanish show in Madrid 21-23 February and the Irish
Coinslot – January 20th – January 26th 2023 – Issue 2820 – Pages 22-23