Preview to Open Day
There's something very regal about Park Avenue Open Day – it's like amusements royalty holding court. And at the centre is the evergreen veteran John Stergides Snr whose Electrocoin HQ will serve as one of the two centre points at PAOD next week. Expect the famous BBQ, charity fundraising, open bar and all the social glitz that goes with it. But don't underestimate the quality of product that's being shown from Electrocoin and the 30 plus participants. John Stergides talks to Coinslot about some of the highlights.
Coinslot: Park Avenue is renowned for its perfect timing for a summer product push, but this year it has an added dimension – the first real industry gathering to discuss the Gambling Review White Paper. What's the good and bad in terms of product development and innovation in the government's proposals?
John Stergides Snr: This year is a key one for the industry – it's the first time that new games will be shown as we prepare to restart the industry.
With all the past issues and restrictions, I'm hoping that this year's Open Day will signal the direction for new opportunities and that we can really begin to focus on innovations that our customers both expect and deserve.
Coinslot: It's been a crazy three years from Covid through to lockdown into supply chain issues to recovery – via raging inflation, interest rates and energy bills. Tell us about your journey through all this and where you are with your business development and growth plans?
John Stergides Snr: We have had similar situations to every business, presented in one form or another.
But our experience and knowledge has helped us to overcome and keep going and to become stronger.
We are keeping going where others, sadly, have failed.
We are growing and developing new games with new and old partners in all areas from redemption, gaming and even services like the Intercard cashless system and Galileo ticket systems, which Gabino is using his knowledge and experience to apply and put to practice to the FEC, Funland at the Brunswick Centre It's widely considered to be the best system in the market and there's a real excitement around it.
Coinslot: What's on the schedule over the coming 6-9 months – any new product launches, new ventures, international growth?
John Stergides Snr: Yes, we plan to launch new redemption and gaming games every few months, and we are also putting special focus on the latest Stern Pinballs.
We will also continue to participate in more overseas shows with soft gaming and redemption. We've been doing this since1976 and we want to develop our strong links even further.
Coinslot: Finally, it's your day – thirty five years of Park Avenue Open Day. So, what products are you planning to show and what are the key highlights.
John Stergides Snr: We will be displaying the latest title Foo Fighters from Stern Pinball, but also the excellent, super limited James Bond 60th Anniversary edition, which, after the Open Day, will be available at Funland to give all pinball players a chance to play this fantastic game.
We will be showing a few new games that will also be applicable for FEC and pub locations like the Magic 7 Key, Mr Do Skill Cut, and Rocket Launch which are gift dispensing games.
Alongside, will also be the 4 player Treasure Alliance, which plays similarly to the Rocket Launch.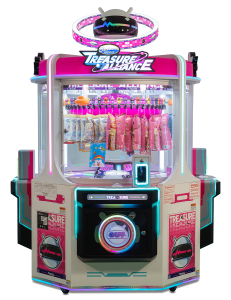 For those with limited space, there will be a couple of different slim cranes. Cranes are an income mainstay and it's so important that smaller venues don't miss out on these income generators – so the slimline options are an important product.
Of course, there will also be the current top star games including the best shooting game on the market, Skill Shooter.
But also, there will be a brand new single player game with fantastic play appeal that has had excellent income results which will be one of the best games for years to come.
And that, we're certain, will keep momentum moving on our brand message – Electrocoin, Expanding the World of Play…. and Operators income with the best new games!!
Preview to Open Day with John Stergides Snr was published in Coinslot: